THEATER
Fowl play

Friday, December 10, 2004
By: G. Robinson

"Chicken Delight" is mostly just that – a fun, gay romp based on a play by Georges Feydeau, although the emphasis is not on the young characters. Everyone spends a great deal of time running in and out of doors (curtains here), as three couples gather in a Tribeca loft.
It turns out that Harry (Michael Eisenbrown) and his jealous partner, Jesus (Christian Irizarry); Brockley Spears (August Costa,) a Tennessee Williams-like fop, and his trick, Randy (Bill Hanson); Splash Gordon (Gil Bar-Sela), a narcissistic stud and his pick-up, Neal (David Perlman); all know more about each other than it seems at first glance.
The play is a revival of pioneer gay playwright and producer John Glines' 1991 work. Apart from the title —a bit downmarket for the elegance of Feydeau — this production, directed by Dave McCracken, is suitably assured and fast paced.
The troupe performs well together, especially Irizarry with his mangled Spanglish and Costa with his lazy Southern drawl. Throughout the production he plays with his six-foot long scarf so incessantly you want to strangle him with it; and I mean that as a compliment. His monologue about the importance of pain as the polar twin of pleasure is the play's funniest bit.
Equally fine is David Perlman as the naïve but really rather disingenious would-be lover, who pretends to be a novice but is actually looking for a Daddy.
The show has its flaws. The dancing at the start of each act goes on for too long and is hampered by the fact that the actors can't dance.
The play's theme is unfaithfulness and seduction; everyone is cheating on their spouse in one way or another. Two of the players are of college age, which accounts for the "chicken" in the title, even though they are a bit long in the tooth to be boy- fowl.
Anyway, nobody gets laid. The show seems to be saying that talking about sex is more fun than actually having it. With the film "Closer" tackling a similar theme, this revival may be perfect timing.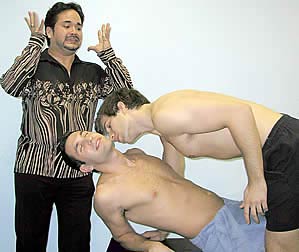 From left: Christian Irizarry looks on as David Perlman and
Bill Hanson (nearly) get it on in a revival of 'Chicken Delight.'
© 2004 The New York Blade | A Window Media Publication