Playwright JOHN GLINES won the Tony and Drama Desk Awards in 1983 as producer of Torch Song Trilogy, won the Drama Desk Award and a Tony nomination in 1985 as producer of As Is, and won the Drama Desk Award in 1994 for Whoop-Dee-Doo! When accepting his Tony for Torch Song, he was the first person ever to acknowledge his same-sex lover on a major awards show. As artistic director and co-founder of The Glines, the country's oldest producer of gay theatre, he has been a major force in the acceptance of the gay experience as valid material of creative expression. As a writer, John has worked extensively in children's television, including seven years on Captain Kangaroo and four years on Sesame Street, for which he was twice nominated for an Emmy Award. His play In The Desert Of My Soul was anthologized in "Best Short Plays Of 1976", and his musical Gulp! was the longest running Off-Off Broadway production of 1977. His latest plays, originally produced by The Glines, are On Tina Tuna Walk, In Her Own Words, Men Of Manhattan, Chicken Delight, Body And Soul, Murder In Disguise, Key West, Heavenly Days and How Now, Voyager. His last play, Butterflies And Tigers, is based on true stories of the Chinese people during the Cultural Revolution, 1966-76. Concurrently with his theatre work, John was a founding trustee of BROADWAY CARES, which grew out of STAMP OUT AIDS, the non-profit organization he began in 1985 as a result of his work on As Is. John has been honored by numerous organizations, including the New York Pride Agenda (Artistic Vision Award), the Allied Gay and Lesbian Association of Los Angeles and the Off Off Broadway Review (Lifetime Achievement Award); and in June of 2000, he was honored by the Borough President of Brooklyn and the Attorney General of New York State for "enriching the quality of life for all." John was born and raised in California, is a graduate of Yale with a BA in Drama and lives in Bangkok, Thailand.
Visit John's website: http://johnglines.moonfruit.com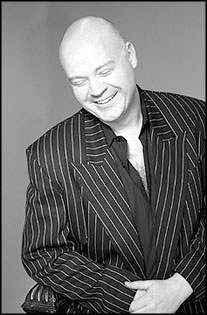 Producer/Director DAVE McCRACKEN is the President of DJM Productions, Inc. and is proud to be a member of The Glines.
Dave has directed many New York productions including DJM Productions' Chicken Delight, I Owe You My Life, Third and Oak: The Laundromat by Pulitzer Prize winner Marsha Norman, a hit revival of John Patick's The Curious Savage, and produced a revival of Mass Appeal in New York City where playwright Bill C. Davis wrote new text just for DJM's production under the direction of Karen Case Cook.